Discover the best underrated things to do Chattanooga has to offer!
Whether you're a first time visitor or a frequent traveler to Chattanooga, there's plenty of opportunities to discover something new and find fun things to do near Chattanooga. Surrounded by lush green mountains and natural waters, Chattanooga offers scenic views and refreshing activities both indoors and outdoors. We've crafted a list of our favorite unique places, bars, restaurants, and spots to visit. 
Location: 432 Market St #204, Chattanooga, TN 37402
Kickstart your Chattanooga adventure with a visit to Time to Escape, an immersive escape room experience in the heart of Downtown. Gather your friends or family and challenge yourselves to solve intricate puzzles, unravel mysteries, and work together to escape within a set time. It's an exhilarating and intellectually stimulating activity that will test your wits and teamwork skills. Choose from a variety of themed rooms and prepare for an unforgettable adventure. With a limit of one hour, Time to Escape is the perfect quick stop activity during your visit.
Location: 1439 Market St, Chattanooga, TN 37402
Tour Chattanooga's first whiskey crafting distillery in over 100 years. Learn the history of Chattanooga Whiskey, the craft production process, and the latest releases. Tours last one hour and include tastings of their latest offerings in a whiskey flight. Stop by the shop while you're there to explore souvenirs to bring home to friends and family. 
Location: 1437 Market St, Chattanooga, TN 37402
Pop into the Hot Chocolatier for a sweet treat, next door to the Chattanooga Whiskey Experimental Distillery. Since 2008, the Hot Chocolatier has been offering artisanal chocolate treats, hot drinking chocolate, pastries and desserts. They have cozy seating spaces in the back to sit and enjoy your hot chocolate.
Location: 735 Broad St Suite 104, Chattanooga, TN 37402
Work your way down to Broad St and make a caffeine pit stop at Chattanooga's coziest coffee shop, Sleepyhead Coffee. Tucked on the first floor of the James Building, Sleepyhead offers vegan snacks and pastries and wonderfully brewed coffee. The atmosphere and ambiance in this place can't be beat, which makes it the perfect place to relax for a minute and recharge before continuing your adventure. Afterwards, continue down Broad Street toward the Aquarium and you'll pass the Moonpie General Store, where Chattanooga's original Moonpie is sold. There's plenty of things to do in Chattanooga along Broad Street as you make your way towards the river.
Location: 219 Broad St, Chattanooga, TN 37402
Further down Broad Street is the Highpoint Climbing Gym. This Highpoint location is a popular stop for both climbing enthusiasts and casual climbers. Their Downtown location features an outdoor wall that gives you great views of the city from the top. Along with top-rope, there's a wide selection of bouldering walls too. This destination is well geared for kids with two sections: one with easy climbing routes for older kids and a dedicated kid's corner for smaller children. The kid's corner is creatively designed so that kids climb up the neck of a giraffe, or scale skyscrapers. 
Location: 825 Houston St, Chattanooga, TN 37403
The Bitter Alibi is right off of MLK Blvd neighboring lots of local bars and breweries. The Bitter Alibi is a modern pub with three floors. The basement floor gives off a dive-bar vibe where friendly bartenders serve drinks and take food orders. The middle floor houses the kitchen and their 10-player Killer Queen arcade cabinet. The top floor, called Dilemma, serves exclusively cocktails and hours may differ from the rest of the bar. If the weather's pleasant, check out their patio spaces: in the back, next to the basement entrance, and on the middle floor's balcony.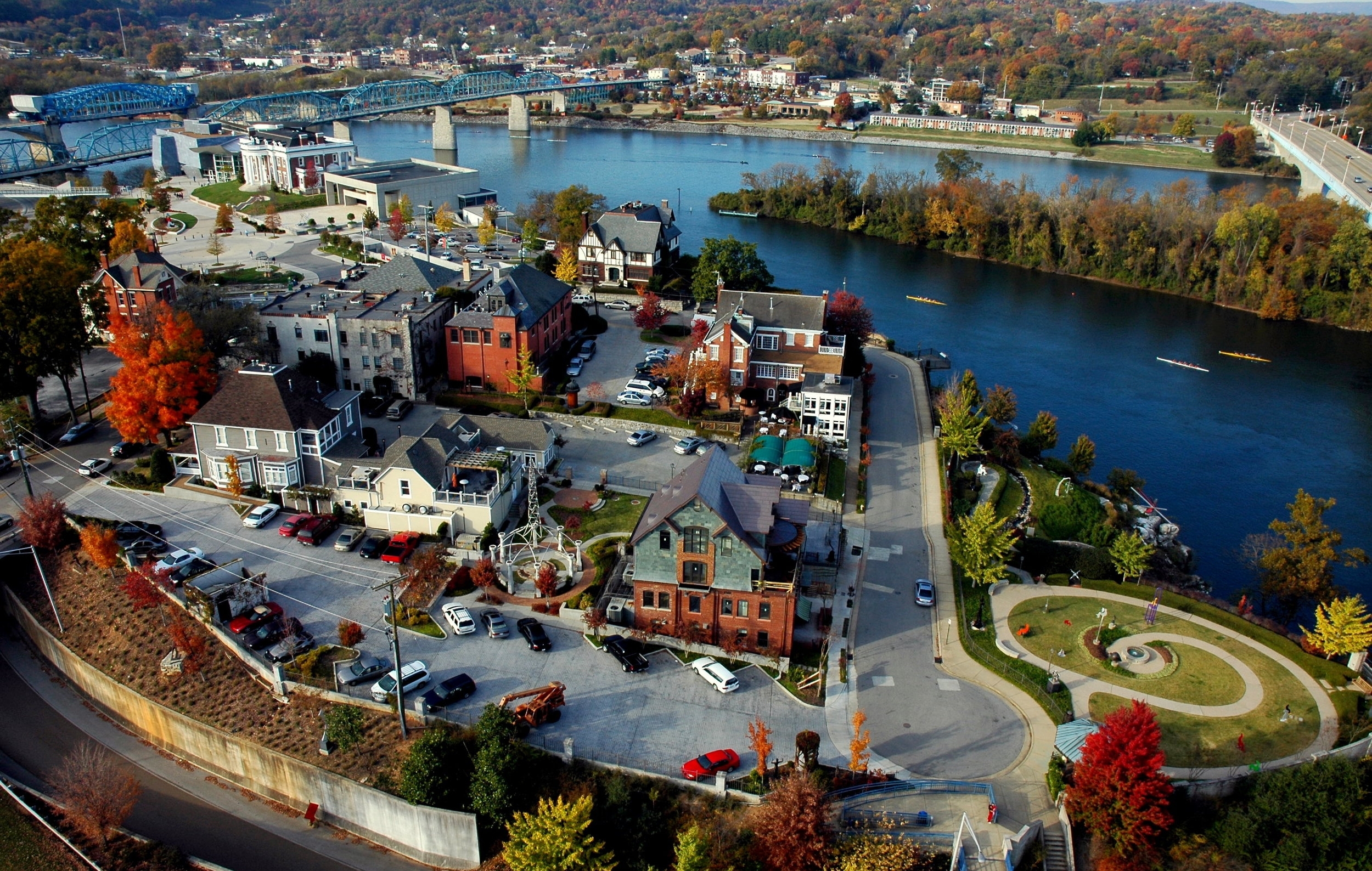 Location: High St, Chattanooga, TN 37403
Chattanooga's Art District is a charming part of Downtown that neighbors the Walnut Street walking bridge. There you'll find an assortment of shops, restaurants, cafes, and the Hunter Art Museum. For art enthusiasts, check out the traveling exhibits at the Hunter Museum or walk through the small sculpture garden near the entrance of the Riverwalk. Popular destinations in the Art District include Rembrandt's Coffee House, The Ice Cream Show, Whiskey Thief (rooftop bar at the Edwin Hotel), and Tony's Pasta Shop & Trattoria.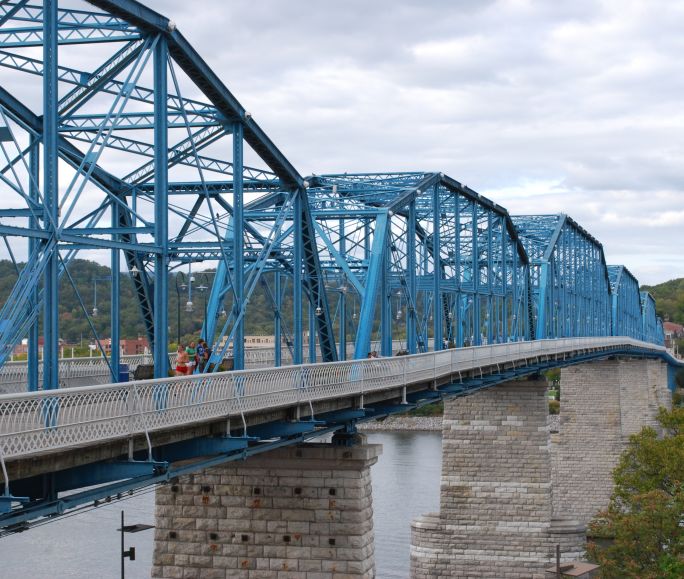 Location: Walnut St, Chattanooga, TN 37403 & 150 River St, Chattanooga, TN 37405
Amidst the bustling city, take a relaxing walk or bike ride on the Walnut Street Bridge. Spanning the Tennessee River, this pedestrian bridge offers spectacular views of the river and downtown Chattanooga. Capture the beauty of the city, enjoy the fresh air, and embrace the scenic surroundings on this iconic Chattanooga landmark. Walk from Downtown's side of the river to the North Shore and you'll discover Coolidge Park on the other side. Coolidge Park is a great destination for kids with its animal sculpture fountains and carousel ride in the center of the park's plaza.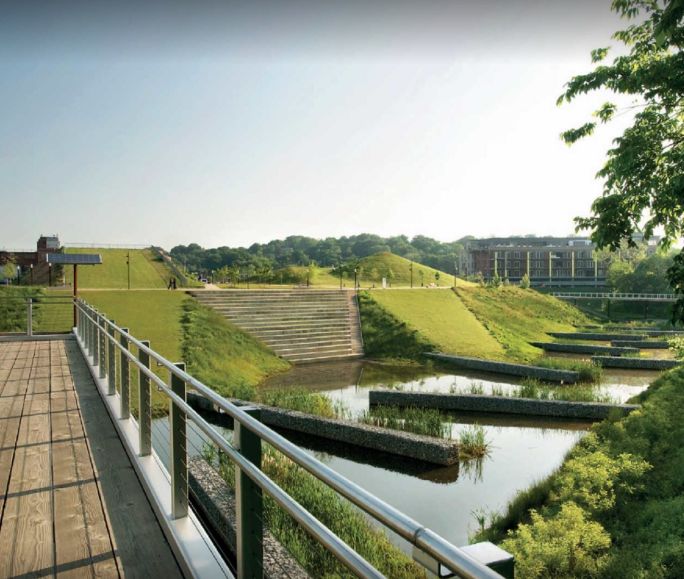 Location: 133 River St, Chattanooga, TN 37405
Adjacent to Coolidge is Renaissance Park, a pet friendly park designed to preserve the area's wetlands and ecology, where you'll find Cardboard Hill, a popular hill to slide down on cardboard. Don't be surprised that you can gain some serious traction on Cardboard Hill. 
10. Shop Along Frazier Avenue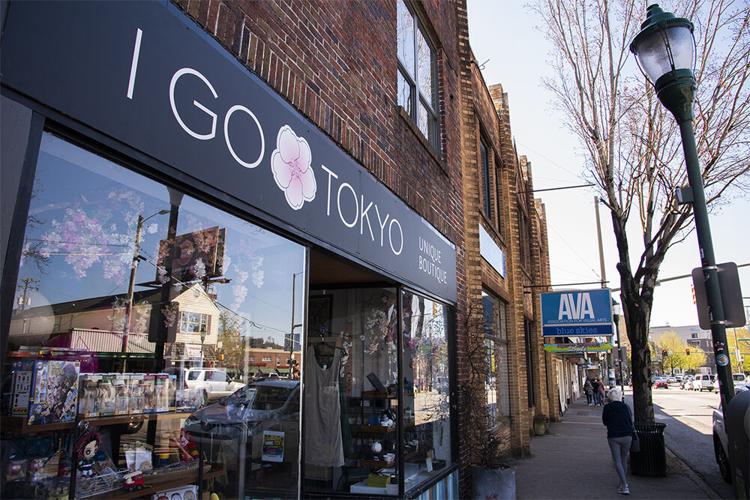 Location: Frazier Ave, Chattanooga, TN 37405
Frazier Avenue, located on the North Shore, is a popular street of shops, boutiques and restaurants. Conveniently located next to Coolidge and Renaissance Park, Frazier Avenue has lots of local small businesses to support. For souvenirs and locally sourced gifts, visit Locals Only on the corner of Market Street. I Go Tokyo is a great place to shop Japanese goods like stationery, ceramics, and other small gifts. Blue Skies is another wonderfully curated gift shop with unique items. Nearby on Market Street, we highly recommend going to Milk and Honey for brunch/lunch or just stop in to try their gelato. 
11. Eat a Delicious Italian Pasta Dinner at Il Primo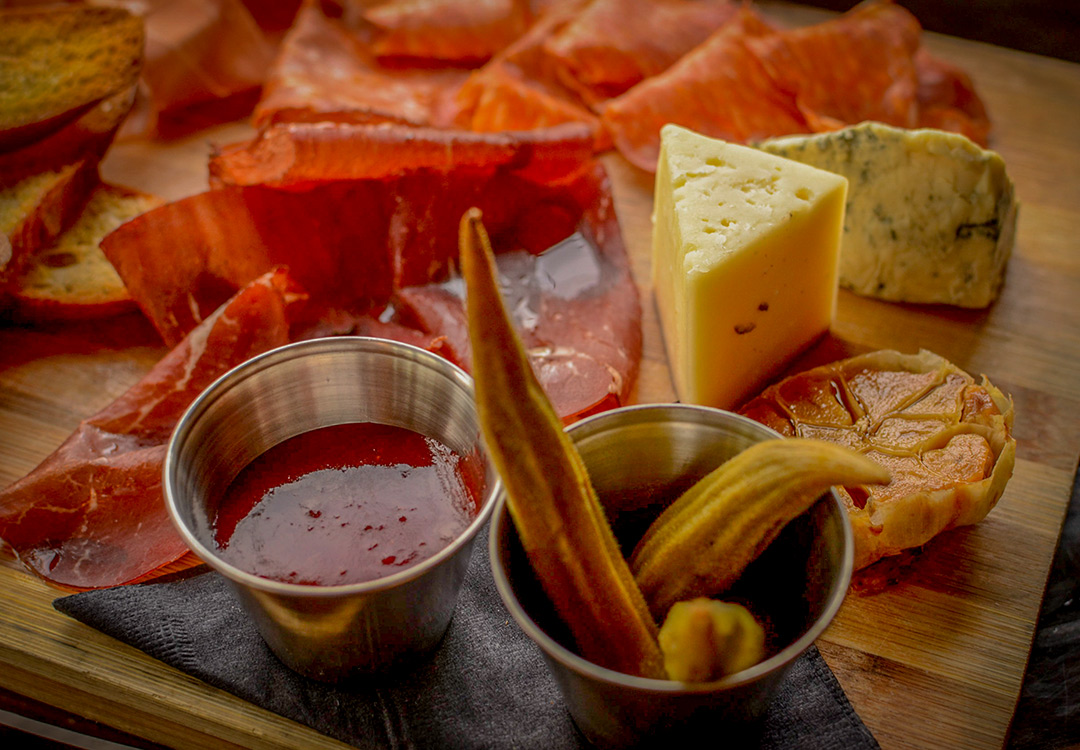 Location: 1100 Hixson Pike, Chattanooga, TN 37405
Further into North Shore, there's an underrated neighborhood where you can find a delicious Italian pasta restaurant called Il Primo. This pocket of streets has some of Chattanooga's best hidden gems. Nearby you'll find The Book & Cover, a small charming bookstore with a coffee shop inside. Next door to that is Rosecomb, a cute cocktail bar with inviting garden outdoor seating. Both Book & Cover and Rosecomb operate from residential homes turned into business spaces. A few other spots we'd recommend are Tremont Tavern for the best burger, The Daily Ration for brunch, and Southern Squeeze for vegan, organic food and juices. 
12. Walk the Tennessee Riverwalk

Location: Several entrances/trailheads along the river
The Riverwalk is one of Chattanooga's best qualities – it's an 11 mile pathway that follows along the riverfront. There are several entrances with parking, restrooms, picnic tables and bike stations. Some sections of the Riverwalk include playgrounds and others include small bridges or connections to greenways. Look up all the different trailheads to pick which section best fits what you're looking for. The Riverwalk is one of the top things to do in Chattanooga. 
13. Hike trails on Lookout Mountain, Signal Mountain, and Stringer's Ridge
Hiking is plentiful in Chattanooga and its surrounding areas. During the fall, hiking up the mountains gives you great views of the changing leaf colors. 
Location: Point Park Visitor Ctr, Lookout Mountain, TN 37250
On Lookout Mountain, Sunset Rock is the most popular destination. You can hike up to the peak of Sunset Rock from Craven's House (where parking is abundant) or simply drive up Lookout Mountain, but be aware that parking is limited near Sunset Rock. Either way, watching the sun set over the mountain ranges is a must see. 
Location: Signal Point, Signal Mountain, 37377
On Signal Mountain, Signal Point is a great hike where you'll also see incredible views of the valley. If you're up for the trek, you can hit Rainbow Lake or Edward's Point from this trail. There are a few suspension bridges and overlooks to explore.
Location: 1312 Spears Ave, Chattanooga, TN 37405
Stringer's Ridge is the closest trail to Downtown Chattanooga and the trails are beginner friendly. On one branch of the trail, there's an overlook that gives you a beautiful view of Downtown Chattanooga. 
Location: 3917 St Elmo Ave, Chattanooga, TN 37409
Of all the touristy things to do Chattanooga has, the Incline Railway is worth it. It's significantly cheaper than most of the tourist attractions in Chattanooga and gives you a unique experience of the city. The view as you go up Lookout Mountain is unparalleled (pun intended) and it almost feels like you're perpendicular to the ground.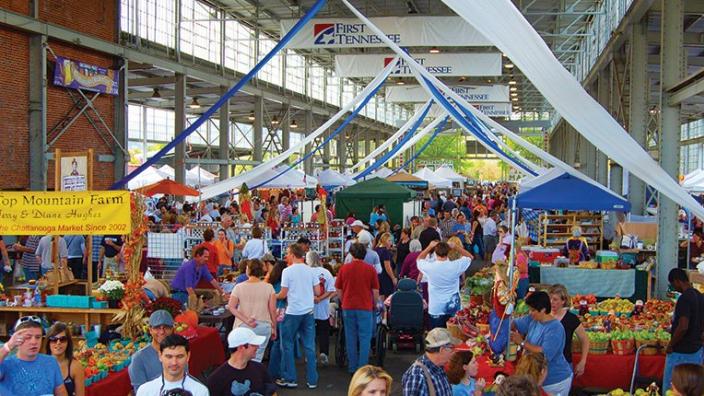 Location: 1801 Reggie White Blvd, Chattanooga, TN 37408
End your Chattanooga journey at the Sunday Chattanooga Market. You'll find lots of local fares: bouquets, produce, artwork, hot sauces (Hoff's, as seen on Hot Ones, frequently has a booth here), and food trucks. There's usually live music – sometimes a jazz band covering popular songs, sometimes karaoke where anyone jumps on stage to sing. Support local Chattanooga businesses and find some fun keepsakes to remind you of the fun things to do in Chattanooga.
Don't Miss the Best Things to Do Chattanooga Has
Chattanooga is a city that seamlessly blends history, natural wonders, and modern attractions. Whether you're seeking outdoor adventures, cultural experiences, or intellectual challenges, Chattanooga has it all. Make sure to kick off your trip with an exhilarating escape room experience at Time to Escape before exploring all the other exciting activities this charming city has to offer.